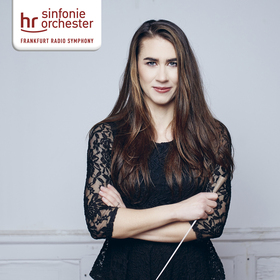 Auftakt | Perpetuum mobile
Marta Gardolińska, Maria Ioudenitch, Kronberg Academy, hr-Sinfonieorchester &nbsp
hr-Sendesaal
Bertramstraße 8
60320
Frankfurt am Main
Tickets from €22.00 *
Concession price available
Event organiser:
Hessischer Rundfunk, Bertramstr. 8, 60320 Frankfurt am Main, Germany
Event info
Perpetuum mobile

Kronberg Academy

Maria Ioudenitch | Violine
Marta Gardolińska | Dirigentin

Grazyna Bacewicz | Ouvertüre für Orchester
Samuel Barber | Violinkonzert
Witold Lutoslawski | Konzert für Orchester


Geradezu manisch beginnt Witold Lutoslawskis klanggewaltiges »Konzert für Orchester« mit den immer gleichen Paukenschlägen über 38 Takte hinweg, und Samuel Barbers Violinkonzert endet in einem rasend schnellen, mechanistischem Perpetuum mobile. Eine atemraubende Tour de Force in Tönen. Gut, dass da die Dirigentin dieses Programms vom Leistungssport kommt – dem hatte sich die Polin Marta Gardolińska jedenfalls gewidmet, bevor die Musik ihre Profession wurde. »Unsere Arbeit ist der von Sportlern sehr ähnlich«, sagt sie. »Sie ist sehr intensiv, und für ein langes Konzert braucht man einfach viel Körperkraft.« Doch bevor sie das hr-Sinfonieorchester durch das kratzbürstige Barber-Finale steuert, wird erst einmal kräftig spätromantisch eingeseift. Als sein »Seifenkonzert« hat Samuel Barber sein Violinkonzert ja selbst bezeichnet, aber nicht wegen des lyrisch-gesanglichen Schäumens der ersten beiden Sätze. Vielmehr weil es finanziert wurde von einem amerikanischen Industriellen, dem Produzenten der Fels-Naptha-Haushaltsseife.

Konzertdauer: ca. 105 Minuten – inklusive Pause
___________

Witold Lutoslawski`s sonically powerful »Concerto for Orchestra« begins almost manically with the same timpani beats over and over again for 38 bars, and Samuel Barber´s Violin Concerto ends in a frantically fast, mechanistic perpetuum mobile. A breathtaking tour de force in tones. It´s a good thing that the conductor of this program comes from competitive sports – that´s what Marta Gardolińska from Poland had devoted herself to before music became her profession. »Our work is very similar to that of athletes,« she says. »It´s very intense, and for a long concert you simply need a lot of physical strength.« But before she steers the Frankfurt Radio Symphony through the scratchy Barber finale, they first get a good late-Romantic soaping. Samuel Barber himself called his violin concerto his »soap concerto,« after all, but not because of the lyrical, songful frothiness of the first two movements. Rather because it was financed by an American industrialist, the producer of Fels-Naptha household soap.

Concert duration: about 105 minutes – including break
Event location
Von Klassik- und Jazzkonzerten, Kinderveranstaltungen, Kabarett, Previews, Lesungen und literarischen Gesprächen bis hin zum Deutschen Jazzfestival, Fastnachtssitzungen oder Fernsehübertragungen bietet der Sendesaal des Hessischen Rundfunks mit seinem Foyer Raum für die unterschiedlichsten Veranstaltungen. Die besondere Qualität des 1954 eingeweihten und 1987/88 komplett umgebauten hr-Sendesaals, der mit hellem Naturholz getäfelt ist, liegt nicht nur in seiner hervorragenden Akustik, sondern auch in seiner Multifunktionalität: Er ist Konzertsaal, Proberaum und modernes Tonstudio in einem, hier arbeitet das hr-Sinfonieorchester und gibt zahlreiche Konzerte, hier werden aber auch regelmäßig CD-Produktionen realisiert. An seiner Stirnseite verfügt der hr-Sendesaal über eine Konzert-Orgel. Der Publikumsbereich bietet bis zu 840 Sitzplätze.
Großer Sendesaal des Hessischen Rundfunks
Bertramstraße 8
60320
Frankfurt am Main