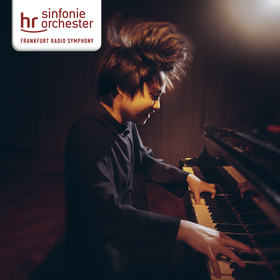 Auftakt | Schwanengesang
Dalia Stasevska. Mao Fujita, hr-Sinfonieorchester &nbsp
hr-Sendesaal
Bertramstraße 8
60320
Frankfurt am Main
Tickets from €22.00 *
Concession price available
Event organiser:
Hessischer Rundfunk, Bertramstr. 8, 60320 Frankfurt am Main, Germany
Event info
Schwanengesang

Mao Fujita | Klavier
Dalia Stasevska | Dirigentin

Andrea Tarrodi | Liguria
Wolfgang Amadeus Mozart | Klavierkonzert A-Dur KV 488
Jean Sibelius | 5. Sinfonie


Schwäne, die über einen See fliegen, haben Jean Sibelius zu einer seiner intensivsten und erhebendsten sinfonischen Momente inspiriert, zu erleben im Finalsatz seiner 5. Sinfonie. Die Schwedin Andrea Tarrodi dagegen schrieb eine Hymne auf die Cinque Terre an der ligurischen Mittelmeer-Küste. »Liguria« sei ein klingender Spaziergang durch diese fünf kleinen Dörfer, sagt die Komponistin: Riomaggiore mit seinen hohen Wellen; Manarola mit seinem Uhrenturm; Monterosso, wo die Sonnenanbeter agieren wie in einem Fellini-Film. Ganz eigene Bilder findet auch Mao Fujita in Mozarts Werken, der japanische Pianist fällt gerade hier mit singulärem Esprit und Entdeckergeist auf. Und mit Mut und Fantasie, etwa was Verzierungen und Freiheiten angeht. Auch Mozart, so Mao Fujita, habe »nicht immer gespielt, was in den Noten steht. Er hat improvisiert, einzelne Phrasen und Noten hinzugefügt. Spiele ich Mozart nur so, wie er notiert hat, ist das ziemlich langweilig. Dabei können wir doch etwas Besonderes daraus machen.«

Konzertdauer: ca. 110 Minuten – inklusive Pause
___________

Swans flying over a lake inspired Jean Sibelius to write one of his most intense and uplifting symphonic moments, to be experienced in the final movement of his Symphony No. 5. The Swedish composer Andrea Tarrodi, on the other hand, wrote a hymn to the Cinque Terre on the Ligurian Mediterranean coast. »Liguria« is a sonorous walk through these five small villages, says the composer: Riomaggiore with its high waves; Manarola with its clock tower; Monterosso, where the sun worshippers act like in a Fellini film. Mao Fujita also finds his very own images in Mozart´s works; the Japanese pianist stands out here with his singular esprit and spirit of discovery. And with courage and imagination, for example with regard to ornamentation and freedom. Mozart, says Mao Fujita, »did not always play what was written in the notes. He improvised, added individual phrases and notes. If I play Mozart only as he notated, it´s pretty boring. Yet we can make something special out of it.«

Concert duration: about 110 minutes – including break
Event location
Von Klassik- und Jazzkonzerten, Kinderveranstaltungen, Kabarett, Previews, Lesungen und literarischen Gesprächen bis hin zum Deutschen Jazzfestival, Fastnachtssitzungen oder Fernsehübertragungen bietet der Sendesaal des Hessischen Rundfunks mit seinem Foyer Raum für die unterschiedlichsten Veranstaltungen. Die besondere Qualität des 1954 eingeweihten und 1987/88 komplett umgebauten hr-Sendesaals, der mit hellem Naturholz getäfelt ist, liegt nicht nur in seiner hervorragenden Akustik, sondern auch in seiner Multifunktionalität: Er ist Konzertsaal, Proberaum und modernes Tonstudio in einem, hier arbeitet das hr-Sinfonieorchester und gibt zahlreiche Konzerte, hier werden aber auch regelmäßig CD-Produktionen realisiert. An seiner Stirnseite verfügt der hr-Sendesaal über eine Konzert-Orgel. Der Publikumsbereich bietet bis zu 840 Sitzplätze.
Großer Sendesaal des Hessischen Rundfunks
Bertramstraße 8
60320
Frankfurt am Main