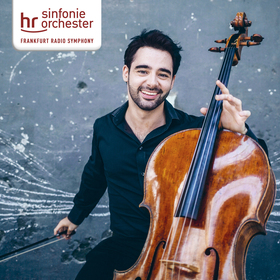 hr-Sinfoniekonzert | Elysium
Pablo Ferrández, Manfred Honeck, hr-Sinfonieorchester &nbsp
Alte Oper | Großer Saal
Opernplatz 1
60313
Frankfurt am Main
Tickets from €19.00 *
Concession price available
Event organiser:
Hessischer Rundfunk, Bertramstr. 8, 60320 Frankfurt am Main, Germany
Event info
Elysium

Pablo Ferrández | Violoncello
Manfred Honeck | Dirigent

Samy Moussa | Elysium (Deutsche Erstaufführung)
Dmitrij Schostakowitsch | 1. Cellokonzert
Ludwig van Beethoven | 7. Sinfonie


Man kann es das Paradies nennen oder die Insel der Seligen: Das »Elysium« ist der Zielort, der Wunschort nach all den irdischen Mühen. Der in Berlin lebende Kanadier Samy Moussa hat ihm 2021 ein Orchesterwerk gewidmet, das in Barcelonas Sagrada Familia begeistert aufgenommen wurde. Die Wiener Philharmoniker hatten die Uraufführung dort übernommen, die Deutsche Erstaufführung erfolgt jetzt durch das hr-Sinfonieorchester und Manfred Honeck. Doch wer ins Elysium will, muss sich erst in dieser Welt behaupten. Muss »per aspera ad astra«, muss Kräfte bündeln und sich die Hörner abstoßen – wie Ludwig van Beethoven in seiner 7. Sinfonie, dieser »Orgie des Rhythmus«, die allerdings nach Meinung eines zeitgenössischen Rezensenten den Zuhörer nur »in den Abgrund der Barbarei führen« kann, nicht ins helle Licht. Und der Solist in Dmitrij Schostakowitschs 1. Cellokonzert, diesem Werk voller Masken, Fassaden und Doppelbödigkeiten, halb Maschinen- und halb Herzensmusik? Er dreht sich im Kreis wie in einem Hamsterrad, ziellos und emsig und immer auf Hochtouren. Für ihn ist das Elysium noch weit.

Konzerteinführung: 19 Uhr
Konzertdauer: ca. 120 Minuten – inklusive Pause
___________

You can call it paradise or the island of the blessed: The »Elysium« is the destination, the place of desire after all the earthly toil. The Canadian Samy Moussa, who lives in Berlin, dedicated an orchestral work to it in 2021, which was enthusiastically received in Barcelona´s Sagrada Familia. The Vienna Philharmonic Orchestra had taken over the premiere there, and the German premiere is now being given by the Frankfurt Radio Symphony and Manfred Honeck. But whoever wants to enter Elysium must first assert himself in this world. Must »per aspera ad astra«, must bundle forces and push off the horns – like Ludwig van Beethoven in his Symphony No. 7, this »orgy of rhythm«, which, however, according to a contemporary reviewer, can only »lead the listener into the abyss of barbarism«, not into the bright light. And the soloist in Dmitri Shostakovich´s Cello Concerto No. 1, this work full of masks, facades and ambiguities, half machine and half heart music? He spins in circles like in a hamster wheel, aimlessly and industriously and always at full speed. For him, Elysium is still far away.

Concert introduction: 7 pm
Concert duration: about 120 minutes – including break
Event location
Mitten in der Frankfurter Innenstadt steht die "Alte Oper Frankfurt". Sie lockt mit Konzerten und Veranstaltungen der Spitzenklasse. Künstler wie Martha Argerich, Alfred Brendel oder Hélène Grimaud, sowie die "Berliner Philharmoniker" sind hier schon aufgetreten.

Seit 1880 bietet die "Alte Oper Frankfurt" Raum für Musik und Feste. Daran konnten auch "Dynamit-Rudi´s" Pläne, das Gebäude in die Luft zu sprengen, nichts ändern. Und seit der Eröffnung zieht die Oper prominente Künstler und Gäste an. Kaiser Wilhelm der 1. kam zur Eröffnung zu Besuch und Carl Orffs "Carmina Burana" wurde hier 1937 uraufgeführt. Und so hat sich zwischen den Bürotürmen ein wichtiges Stück Stadtgeschichte gehalten. Dem Schriftzug über dem Eingang "Dem Wahren, Schönen, Guten" entsprechend, ist die "Alte Oper Frankfurt" ein Garant für ein tolles Programm und unvergessliche Konzertabende. Der große Saal bietet mit 2500 Sitzplätzen genug Platz für große Konzerte, der "Mozartsaal" schafft mit 700 Plätzen eine intimere Atmosphäre.

Die "Alte Oper Frankfurt" ist eine feste Kulturinstitution. Sie genießt weit über das Rhein-Main-Gebiet einen sehr guten Ruf. Hier wird Kunst perfektioniert.
Alte Oper
Opernplatz 1
60313
Frankfurt am Main