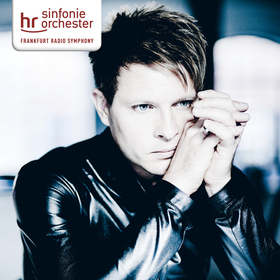 hr-Sinfoniekonzert I Fatum
Avi Avital, Krzysztof Urbański, hr-Sinfonieorchester &nbsp
Alte Oper | Großer Saal
Opernplatz 1
60313
Frankfurt am Main
Tickets from €19.00 *
Concession price available
Event organiser:
Hessischer Rundfunk, Bertramstr. 8, 60320 Frankfurt am Main, Germany
Event info
Fatum

Avi Avital | Mandoline
Krzysztof Urbański | Dirigent

Wojciech Kilar | Krzesany
Jennifer Higdon | Mandolinenkonzert
Peter Tschaikowsky | 4. Sinfonie


Tschaikowskys »Vierte« ist seine Schicksalssinfonie. Er selbst sprach hier vom »Fatum«, dieser »verhängnisvollen Macht, die unser Streben nach Glück verhindert«. Entsprechend getrieben klingt diese Musik, ekstatisch und mitunter verzweifelt. Doch keine Sorge, dieser Abend kennt auch entspanntere Mächte. Denn das Schicksal von Avi Avital ist die Mandoline – quasi im Alleingang hat er das agile Zupfinstrument in den letzten Jahren in den Fokus der Aufmerksamkeit gerückt. Jennifer Higdon, immerhin eine Pulitzer-Preisträgerin für Musik und ohne Scheu vor vertrauten Klangwelten, hat für den israelische Mandolinen-Virtuosen ein Solokonzert geschrieben: »Sein außergewöhnliches Können, sein angeborenes musikalisches Gespür und seine Leidenschaft für die Mandoline haben mich dazu inspiriert, ein Konzert mit der poetischen Lyrik und Freude zu schaffen, die er mit diesem wunderbaren Instrument verbindet.« Und so mischt die amerikanische Komponistin hier »neoromantisch-sehnsüchtige Aufschwünge mit rhythmisch zündenden Vertracktheiten, bietet impressionistisch Zartes ebenso wie exzessive Virtuosität«, wie 2021 in der SZ zu lesen war – und zwar über die Münchner Uraufführung, die dirigiert wurde von dem »so aufmerksamen wie eleganten Krzysztof Urbański«.

Konzerteinführung: 19 Uhr
Konzertdauer: ca. 120 Minuten – inklusive Pause
___________

Tchaikovsky´s »Fourth« is his symphony of fate. He himself spoke here of »fatum,« this »fatal power that prevents our pursuit of happiness.« Accordingly, this music sounds driven, ecstatic and sometimes desperate. But don´t worry, this evening also knows more relaxed powers. For Avi Avital´s destiny is the mandolin – virtually single-handedly, he has brought the agile plucked instrument into the spotlight in recent years. Jennifer Higdon, a Pulitzer Prize-winning musician after all and unafraid of familiar soundscapes, has written a solo concerto for the Israeli mandolin virtuoso: »His extraordinary skill, innate musical sense and passion for the mandolin inspired me to create a concerto with the poetic lyricism and joy he associates with this wonderful instrument.« And so the American composer mixes here »neoromantic, wistful upswings with rhythmically igniting intricacies, offers impressionistic tenderness as well as excessive virtuosity,« as was read in the SZ in 2021 about the Munich premiere, which was conducted by the »as attentive as elegant Krzysztof Urbański.«

Concert introduction: 7 pm
Concert duration: about 120 minutes – including break
Event location
Mitten in der Frankfurter Innenstadt steht die "Alte Oper Frankfurt". Sie lockt mit Konzerten und Veranstaltungen der Spitzenklasse. Künstler wie Martha Argerich, Alfred Brendel oder Hélène Grimaud, sowie die "Berliner Philharmoniker" sind hier schon aufgetreten.

Seit 1880 bietet die "Alte Oper Frankfurt" Raum für Musik und Feste. Daran konnten auch "Dynamit-Rudi´s" Pläne, das Gebäude in die Luft zu sprengen, nichts ändern. Und seit der Eröffnung zieht die Oper prominente Künstler und Gäste an. Kaiser Wilhelm der 1. kam zur Eröffnung zu Besuch und Carl Orffs "Carmina Burana" wurde hier 1937 uraufgeführt. Und so hat sich zwischen den Bürotürmen ein wichtiges Stück Stadtgeschichte gehalten. Dem Schriftzug über dem Eingang "Dem Wahren, Schönen, Guten" entsprechend, ist die "Alte Oper Frankfurt" ein Garant für ein tolles Programm und unvergessliche Konzertabende. Der große Saal bietet mit 2500 Sitzplätzen genug Platz für große Konzerte, der "Mozartsaal" schafft mit 700 Plätzen eine intimere Atmosphäre.

Die "Alte Oper Frankfurt" ist eine feste Kulturinstitution. Sie genießt weit über das Rhein-Main-Gebiet einen sehr guten Ruf. Hier wird Kunst perfektioniert.
Alte Oper
Opernplatz 1
60313
Frankfurt am Main